Chinese New Year nails!!
Chinese New Year is just around the corner!! Being girls, all of us would naturally want to dress well and look our best during house visiting! How can you stand out from all your pretty cousins/relatives/friends? The answer is, to have pretty manicured nails!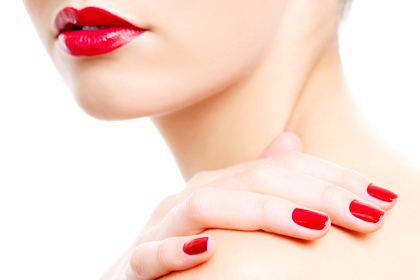 Having pretty nails (right) will always look better than having bare, plain nails (left).
**Images grabbed from Google
I think Chinese New Year is the best festive occasion to get a pretty manicure because people will DEFINITELY notice it!!
- When wishing your relatives xin nian kuai le
- When collecting ang baos
- When playing mahjong
- When playing cards
- When you lao yu sheng with everyone else, etc.
Not to mention that the colours/design can bring you luck during CNY gambling too ;)
I know some of you don't usually bother with your nails because you think it's too much of a hassle (especially when the paint chips off, I know right?!) but Gelish lasts for weeks and does not chip! You can do sports, housework, wash your long tresses, etc. and it will still remain exactly the way it is when you just stepped out of the nail salon even after a month! The only reason why you can't have them on forever is because your nails grow longer and there'll be an awkward gap where your new nails grew.
Though I have been to cheap nail salons that provide bad quality gel polishes which cracks withing 2 weeks, something like this:
(Grabbed from Kikyo's instagram, @kikyopancakes)
Super ugly!! Not to mention that you'd be tempted to tear off the polish which can harm your nails!
But at
Rachel.nailz
, I can assure you that this sort of nonsense will not happen! Rachel only provides the best gel polishes and top notch services! I have done 4 nail designs with her thus far and her nails designs are not only beautiful, but really long lasting too! Not to mention it's only a fraction of the price compared to many other nail salons!
Here's Rachel being extremely meticulous with my nails~
Patiently designing my tiny nails with flower patterns suitable for CNY!
After soaking off my previous Christmas design to give my nails a break before the CNY nail design, I broke my nails so I had to get nail extensions. Rachel really patiently sat there for FOUR HOURS, making sure my extensions are unbreakable and added different designs for each of my nails!! Even though I was dozing off after the 2nd hour, she didn't get irritated but instead giggled and let me watch Hong Kong dramas from her new Samsung tablet using her 3G so I don't get bored!! :') Best manicurist ever, period.
This is the final design!!
Apart from flowers, gold glitter, and red background colour, there are many other designs to choose from! Of course, you can choose to show her a design of your choice and ask her to replicate or enhance as well!
"年年有余(鱼)"
I am particularly drawn to this design! But I think it may not to suitable for me, perhaps for someone more mature!
Interested in getting your nails done before the CNY but slots are fully booked elsewhere? Fret not! Slots are still available (but filling up fast!) at
Rachel.nailz
!
Text/whatsapp Rachel at 91855502 to book your appointment NOW to avoid disappointment!!
Rachel.nailz
is located at:
Blk 47 Tanglin Halt Road, #01-323 (Nearest MRT station: Commonwealth)
(Click to enlarge)
That's all for today's update! May everyone have a prosperous CNY! Enjoy your holidays! :D
Signing off,
Jesslimcy.
Older Post | Newer Post